Does it feel like you're getting a lot of benefits out of a daily CBD routine? Great, then it might be time to consider letting your furry friend in on the hemp action. And, the good news is, that today's hemp market supplies a variety of CBD products made especially for dogs, including absolutely delicious CBD dog treats which are easy to incorporate into their daily routine. These treats contain servings of cannabidiol (CBD) that are ideal for their bodies while being so appealing that your pup will be begging for them day after day.
What are CBD Dog Treats?
CBD dog treats are pretty self-explanatory – they are hemp oil dog biscuits, aka dog biscuits infused with a CBD-rich oil extracted from the hemp plant, to give them a daily serving of cannabidiol's valuable properties to help them feel their best. They come in a variety of flavors, strengths, formulations, and, for better or worse, quality levels. We're here to help you choose only the cleanest, safest, and most effective CBD dog treats possible for your beloved companion.
Is it Actually Okay to Give a Dog CBD-Infused Treats?
Maybe this is the first time you've heard about giving cannabidiol to a pet, and you're wondering if it's actually safe.  Fortunately, dogs can tolerate CBD quite well, along with the entirety of the hemp plant as it naturally exists. Our pets have endocannabinoid systems (ECSs) just like we do, which is why they utilize cannabidiol to deliver the same effects that CBD gives to us – including effects that regulate inflammation, and stress response, physical discomfort, neurological function, appetite, digestion, and a lot more. Plus, hemp is just as gentle of a plant when they consume it as it is for us, so they won't be intoxicated and aren't considered at risk for major side effects.
But, there's one thing to point out. Today's hemp market offers a variety of products made with concentrated servings of psychoactive cannabinoids, like delta 8 THC, THC-O, THC-P, and THCV. These products are strictly NOT safe for pets, since they contain intoxicating doses of THC that are very dangerous for pets. Pets who consume intoxicating servings of psychoactive doses are at risk of various forms of toxicity.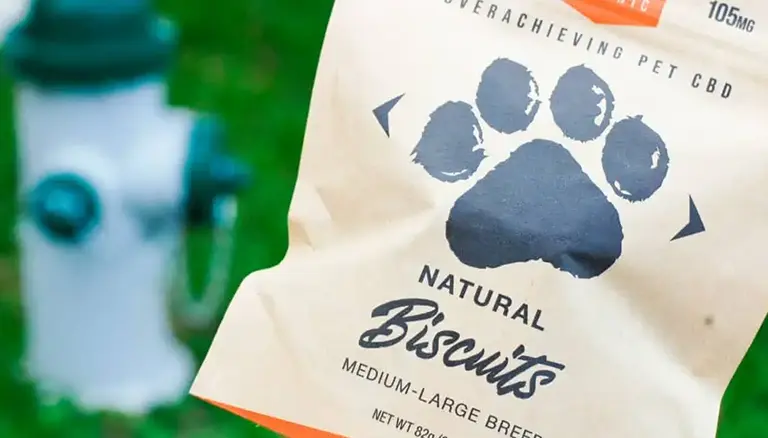 Why Can't I Give My Pet Just Any CBD Product?
Basically, not all hemp products on the market are safe for canines, and that's why pet-friendly CBD products exist. Many of the ingredients we can safely consume, such as certain essential oils, flavoring, and plant-derived fragrances are actually dangerous to administer to smaller mammals, whose liver and kidneys are unable to process these ingredients. 
The other thing is that the appropriate cannabidiol dosage for daily use is highly dependent on weight, and dogs have an entirely different weight range than humans. CBD dog treats then, take into consideration the daily milligram needs of differently sized dogs, to offer an effective and appropriate amount for them.
How Should I Give My Dog CBD Dog Biscuits?
Fortunately, it doesn't get any easier than giving a dog a CBD biscuit. These products are made to offer a flavor and texture that is extremely appealing to dogs, and dogs won't notice the difference between CBD treats and standard treats. They'll probably be very excited to get their CBD dog biscuit each day, and you won't need to coax them into taking their serving of hemp. Better yet, a lot of CBD dog biscuits are made with CBD isolate, a flavorless and odorless extract that contains pure cannabidiol with all other hemp compounds removed that could turn off your dog because of the taste and smell.
Where Can I Buy CBD Biscuits for Dogs?
More CBD dog biscuits are available on the market than ever before, but not all of them are created equally. Before buying a particular dog treat formula, consider all of these things below.
Lab Reports: Hemp products must come with third-party lab reports, provided through the brand's website, which prove that the hemp was tested thoroughly by a third-party facility that's licensed by the state to analyze cannabis samples. The lab report will show you whether or not the product complies with the law, and adheres to safety, quality, and purity standards.
The Ideal Ingredients: You always want to feed your dog a CBD dog treat made from natural, plant-based ingredients that are proven to be safe for dogs. Not only that, but agree with your dog's body, too.
A Tasty Flavor: Of course, we want to make sure that our dog likes the flavor of their CBD biscuit, so explore different flavors that are out there to find what will appeal to their taste buds.
Dosing Directions: CBD dog treats should come with directions that tell you how many to administer to your dog daily to give them the ideal serving of cannabidiol, for the best results possible. Please follow these directions to ensure the best results. Giving your dog too little CBD can be barely effective, and even giving them too much can cause drowsiness and other unwanted side effects. 
The Right Texture: Some dogs have specific texture requirements, either because they're picky or because their teeth require a treat that's soft. So, look at the label to see if the treats are crunchy, chewy, or soft, and find what's compatible with your pup.
Kore CBD Dog Treats: Perfect For All Breeds!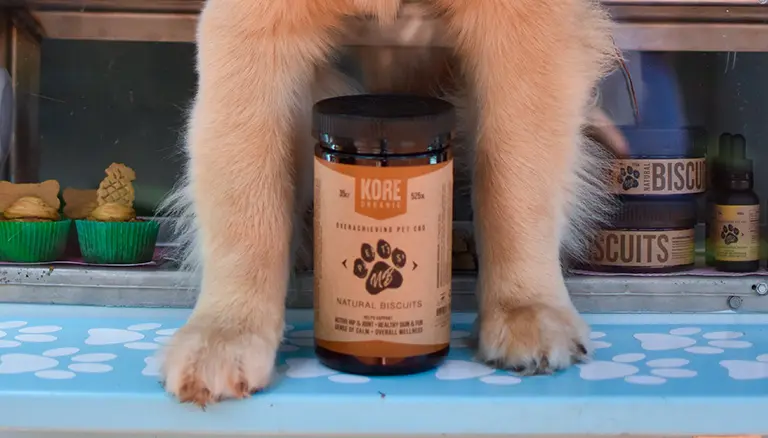 To know you're giving your dog (large or small) the finest CBD dog treats possible, Kore Natural Biscuits offer the ideal number of milligrams of flavorless, highly effective, and lab-tested CBD isolate per piece, all derived from organic hemp material. Flavored with only organic, plant-derived ingredients known to be safe for canines (the recipe is 100% corn-free, soy-free, wheat-free, cruelty-free, and non-GMO), they simply provide a sublime flavor that dogs will absolutely love. Just a single biscuit daily supplies your furry companion with all of the hemp action they need to feel their absolute best!