CBD oil, also known as hemp oil, is, undoubtedly, one of the most in-demand products on the hemp market. Often used as a tincture, it provides us with a minimal, straightforward and user-friendly formula for getting in that perfect daily dose of cannabidiol, the nontoxic, nonintoxicating cannabinoid in hemp that can offer a host of valuable effects to body and mind.
While CBD oil is very effective as a tincture, it's also a fantastic way to turn your favorite recipes into CBD-infused edibles. Cooking with hemp oil is easier than cooking with raw hemp flower, and can be used in virtually any recipe. Let's help you get started.
What is CBD Oil?
CBD oil is a specific type of CBD-infused formula, consisting of hemp extract (naturally high in CBD) and a carrier oil like MCT oil, which is safe for ingestion. Sometimes it includes flavoring agents as well.
Like we said, CBD oil is most commonly used as a tincture. It comes in a dropper bottle, to make administration easy. Typically, a full dropper of oil serves as a single dose. When taken sublingually, its effects can "kick in" within about 30 minutes, lasting for about 4 hours.
However, using CBD oil for making recipes means that you're not taking it as a tincture, but ingesting it. Ingesting the cannabidiol compound means that the effects can take 2 hours before peaking, but can last for up to 8 hours.
Can You Buy CBD Infused Oil for Cooking?
We do want to specify that there is no such thing as "CBD cooking oil" or "CBD cooking products." The CBD oil that people use for cooking is the same oil they'd buy as a tincture, and you can choose the milligram strength and flavor option (or unflavored) based on what you desire.
Can You Cook with CBD Oil?
CBD oil, like all hemp-infused oils, can be added to any recipe, and generally tolerates cooking and baking very well. The key is avoiding surpassing 350 degrees Fahrenheit, as this is the point where the CBD starts to break down and lose its effectiveness. Thankfully, there are many recipes that don't require heat beyond that point, so you'll be able to get all of the benefits you're seeking out from hemp, in edible form.
Hemp Oil for Cooking: How it Works
Cooking with CBD oil is different from cooking with raw hemp/CBD flower. That's because CBD oil contains CBD that's already decarboxylated – aka activated through heat, to allow CBDA to convert into CBD. When cooking or baking with raw flower, you need to decarboxylate the flower, then infuse it into butter or a cooking oil, and naturally, that takes a lot more work.
How to Use Hemp Oil in Food
If you want to get started making homemade CBD edibles with hemp oil, you'll want to first find a recipe. CBD oil can be added to any recipe, like we said before, and as far as dosing is concerned, you'll want to multiply your desired dose by the number of servings. For instance, if you're making a recipe that has 4 servings, and you like to take half a dropper of CBD oil, you'll want to add 2 full droppers to the recipe. That being said, let's share some of our favorite CBD oil recipes to help get you started.
CBD Oil Recipes
All of the recipes below are easy, delicious, and offer great ways to get in that daily serving of good old cannabidiol. While these 5 recipes are great starting points, keep in mind that they can be modified however you so choose.
Brownies
Ingredients:
2 droppers of CBD oil
2 sticks of unsalted butter, melted in the microwave
1 ½ cup white sugar
4 large eggs
2 tsp vanilla extract
1 cup cocoa powder
1 cup all-purpose flour
1/2 tsp salt
Directions:
Preheat your oven to 350 degrees, and lay parchment paper in an 8×12 baking pan.
Beat together the CBD oil, butter, sugar, eggs, and vanilla extract in a large mixing bowl, until smooth.
Sift in the remaining ingredients, one at a time. Keep beating until you get a smooth batter.
Pour the brownie batter into the baking pan and bake for 20 minutes, or until a toothpick inserted into the pan comes out clean.
Banana Bread
Banana bread is one of those treats that acts as the perfect breakfast, snack, or dessert. And, ours is fluffy, moist and rich, making it perfect for your CBD baked goods repertoire.
Ingredients:
1 stick of unsalted butter, softened at room temperature
4 bananas, slightly overripe
1 large egg
2 droppers of CBD oil
1 tsp vanilla extract
1 cup white sugar
2 cups all-purpose flour
1 tsp baking soda
1/2 tsp salt
Directions:
Preheat the oven to 350 degrees. Line a loaf pan with parchment paper.
In a large mixing bowl, beat together the butter, bananas, eggs, CBD oil, and vanilla until smooth. Then, beat in the sugar just until it dissolves.
Sift in the flour while beating, followed by the baking soda and salt, until you have a smooth batter.
Pour the batter into the loaf pan and bake for 35-40 minutes, until a toothpick comes out clean.
CBD Quiche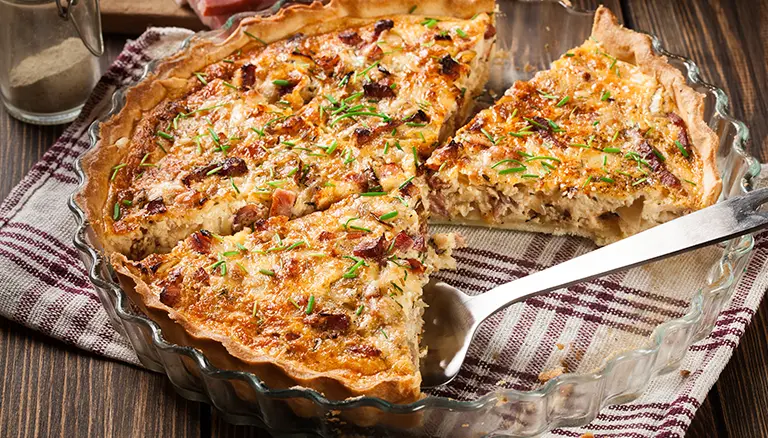 Ingredients:
1 premade pie crust piecrust
5 eggs, beaten well
1 cup milk
1 cup of your favorite cooked vegetables (this is a great chance to use up leftovers! Otherwise, consider spinach, mushrooms, onions, broccoli, etc.)
1 cup of shredded cheese (any cheese works!)
2 droppers of CBD oil
1 tbsp salt
Directions:
Preheat your oven to 350 degrees. Place all of your filling ingredients into a mixing bowl and whisk.
Pour the filling into the pie crust. Bake for 45 minutes.
Berry Crisp
If you're all about fruity desserts, then this crumble will satisfy you beyond belief. Keep in mind that the berries can be switched out for just about any fruit that you desire. And, consider serving this with a scoop of vanilla ice cream to make it all the more decadent.
Ingredients:
6 cups of berries (fresh or frozen)
1/4 cup white sugar
3/4 cup white flour
1/2 tsp cinnamon
2 droppers of CBD oil
1 cup oats
1 cup brown sugar
1 tsp salt
1 stick of unsalted butter, chilled and cut into small cubes
Directions:
Preheat your oven to 350 degrees, and grease a 9-inch round pie dish.
Place the berries, white sugar, ¼ cup of white flour, cinnamon and CBD oil in a mixing bowl, and gently stir until well combined. Pour this mixture into your pie dish.
In a separate mixing bowl, pour the oats, brown sugar, salt, remaining flour and cubed butter. With your fingers, break up the butter in the mixture until you get the consistency of coarse sand. Pour this topping over the berry mixture in the pie dish.
Bake for 60 minutes, or until the topping is golden-brown in the oven.
CBD Baked Brie
Ingredients:
1/4 wheel brie
4 tbsp fruit jam – we love apricot, as well as raspberry
2/3 cup almonds (or nut of your choice)
2 droppers of CBD oil
Directions:
Preheat the oven at 350 degrees, and line a baking sheet with parchment paper.
Into a small mixing bowl, whisk together the jam and the CBD oil.
Place the brie onto a baking sheet. Drizzle the jam/CBD oil mixture on top, and speckle the top with almonds.
Bake for 6-8 minutes, until the brie begins oozing. Serve with your favorite crusty bread or crackers.
Get Creative with Kore CBD Oil!
Now that we've shared some CBD-infused edible recipes, it's time for you to get creative in the kitchen and come up with your own fantastic CBD baked goods and other type of treats. Remember that you want to choose a top-quality CBD oil to make sure you're getting the best effects possible, so look for a reputable company with lots of positive reviews, and third-party lab reports on their website.
At Kore Original, we offer the perfect CBD cooking oil. Our CBD oil is sold as a tincture, but it's just as useful as an additive to any recipe. It comes in Watermelon, Peppermint and Original (Unflavored) options, and a variety of milligram strengths. Made with simple, natural ingredients, it'll enhance any recipe by providing you with the perfect serving of your favorite cannabinoid, each time you take a bite.